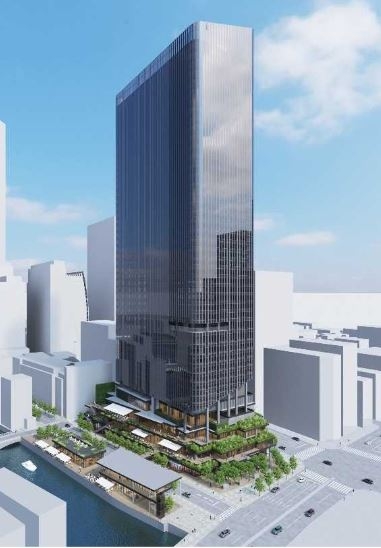 Tokyo Tatemono Co., Ltd. moved forward as a member of the Yaesu 1-Chōme Kita District Redevelopment Preparatory Association on the 11th. It was announced that the decision regarding the plan, and the specific project of the National Strategic Special Zone in the Tokyo area, were approved by the Prime Minister.
The planned site is located near the Nihonbashi Exit of Tokyo Station, and features the convenience of transportation directly connected to the Tokyo Metro and other Nihonbashi stations. Located at the center of the planned Tokyo International Financial Center, set up by the national government, it will maintain a plaza space that maintains the waterside and pedestrian spaces along the Nihonbashi River in a continuous fashion, and there will be a building complex consisting of offices, stores, and accommodation facilities.
It aims to create a financial base that contributes to strengthening and fulfilling international competitiveness.
The site area is approximately 9,260 square meters and the total floor area is approximately 181,500 square meters. The start of construction is slated for 2025 and the completion of the complex building is scheduled for 2030, and the entire construction, including the open space, is scheduled for 2035.